Jon Shook and Vinny Dotolo met while attending culinary school at The Art Institute of Fort Lauderdale in Florida. Their first job together was in the kitchen of famed chef Michelle Bernstein at The Strand Restaurant in South Beach.
Launching their own catering endeavor years later, and ultimately their first restaurant, Animal- a name in it's self specializing in carnivorous eats. Their second restaurant, Son of a Gun, maritime themed opened in February 2011.
4 Incredible Sammys in town.
1) The Chicken Sandwich
fried chicken sandwich, spicy b&b pickle slaw, rooster aioli
Swanky Eats: If you haven't gone you should make it a must:
If you know me personally, you know I LOVE Mastros. Passionately. Mastros Beverly Hills is one of the happiest places on earth and you can only truly enjoy and have the "experience" upstairs, where the piano bar is.
Black and whites of the Rat Pack, martinis and wine glasses cheering and tables of beautiful, thick and perfect filets, rib eye and bath tub sized icy mountains of oysters on a half shell danced around by crab & shrimp cocktail.
Here are my MUSTS: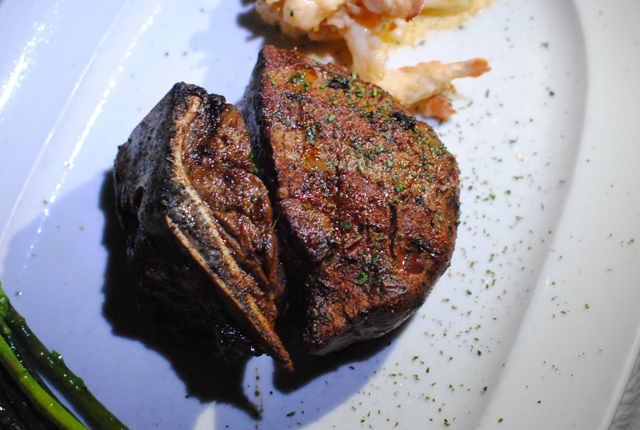 bone in(or out) filet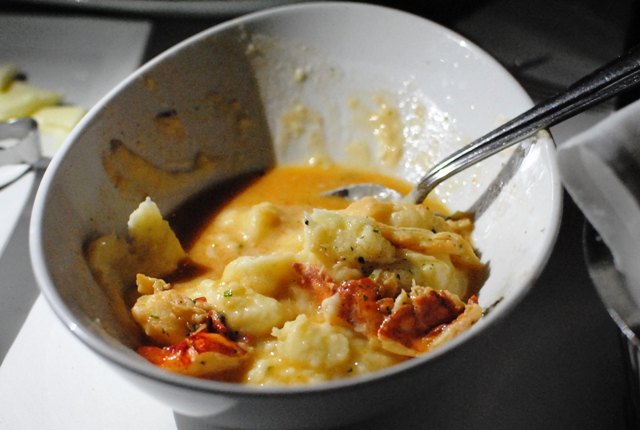 the Lobster Mash. Absolutely decadent.
Seafood melange: they can put the dry ice in your martini as well
Heaven on Earth: The Butter Cake with fresh cream
Great Sides:
creamed corn or spinach
asparagus
Seasonal King Crab Gnocchi
Onion Rings
and you must, save yourself from killing the pretzel bread in the basket…
Enjoy, have an appetite and celebrate life at
246 North Canon Drive Beverly Hills, CA 90210
(310) 888-8782
Down Beverly head over to Kings Road Cafe for brunch:
Delicious breakfast! Seared ahi tuna, paninis, pastries, fresh ground espresso and mimosas
8361 Beverly Boulevard Los Angeles, CA 90048
(323) 655-9044
Spacecraft: Curating Restaurants Near You 
Ever wonder what that black wall was that surrounded the opening of a closed restaurant you just passed by? The innovative group Spacecraft that brought us Mohawk Bend, Naya, Osaka, Smithhouse Bar & Grill, Senor Fred, BOHO, Kitchen 24, Delancy, The Bowery, Stout, to say the least… that's who they are. Spacecraft is a full service hospitality, design and construction firm based in Los Angeles, California. Their design philosophy is a combined focus on logical space planning, project unique schemes, and leading edge designs.
I was inspired to write about the group for sometime, first because I'd see their signs up EVERYWHERE. Then I just saw that they are posted up off 3rd and Fairfax in the former Celadon spot- and finally I just read an interview with Kristopher Keith, the captain of Spacecraft and thought, wow this guy doesn't **** around. Here is what they do:
Expertise:
I am more than looking forward to trying Naya, Indian restaurant & lounge, the newest notch under Spacecraft's belt. Silverlake's exotic new lady.
Inside the newest treasure, Naya.
So the next time you see that black wall, those white typed letters know- that something, something special… is coming to a neighborhood near you.
Spacecraft Group | Hospitality Design and Construction Firm
You GOT to try:
Mohawk Bend | Commitment to Craft
Exotic palatte? go to:
Dine nearby at
Drizzled with a seductive ambience, RED O sets the new standard for upscale Mexican Cuisine.
The setting encases14-foot Mexican chandeliers, hundreds of antique bells, some leather swings and lots of dazzle.

From sopas, goat cheese tamales, ceviche, queso fundido, soft tacos, enchiladas and seven "celebrated" classics, the cuisine doesn't stop there…preparation, presentation plus artsian chorizo and albondigas mold this beautiful restaurant into something unique.
Don't expect traditional Mexican at traditional prices, or traditional cocktails only- The Scorpion ($13), which mixes Sauza tequila VeeV Acai Spirit, Gran Torres orange liqueur, fresh limonada and homemade serrano-infused syrup is AMAZING. My favorite when I go there.
Not to mention their vast collection of tequila offerings.
8155 Melrose Avenue Los Angeles, CA 90046-7016
(323) 655-5009
Baldi, from the town of Forte dei Marmi on the Tuscan coast in Italy, opened his first Santa Monica restaurant in 1990. The chef then unwrapped Giorgio Malibu four years later for the folks of Malibu Colony before opening the cozy Il Ristorante di Giorgio Baldi on West Channel Road.
The spot quickly became an incredibly fashionable and "in" restaurant for the Hollywood scene, where you could spot Cher, Kate Hudson, Tom Cruise, Rihanna and David Geffen in there on any given night.
Giorgio Baldi, hidden gem no matter how famous. Your neighborhood restaurante if you live at the Neutra House:
Truffle sauce.(yes you can SEE truffle!)
Sweet White Corn Agnolotti. So Famous.
Clams with white wine.
Beef carpaccio.
114 West Channel Road Santa Monica, CA 90402
(310) 573-1660
Compliments of Giorgio Baldi
Welcome Short Order to 3rd Street Farmer's Market!
Newly built in the essence of historic Farmer's Market.
Quality, quality. Short Order is serious about using only local, sustainable and artisanal ingredients, and to that end most of the meat is sourced from Sonoma County. The animals are all free range, humanely treated and produced without the use of antibiotics or hormones.
If you're going to have a burger, have a damn good one.
Crave a macaron? A Croque Monsieur? Perhaps an almond croissant or mimosa? Or are you just a guy that likes a Chimay and a damn good quiche. Well, if you are ever driving down West 3rd St you must stop for a special european experience at Little Next Door. Tall ceilings, colbalt blue walls and wrought iron design carrys this precious cafe to the next level. As a natural extension of The Little Door, Little Next Door is a brasserie and artisan marketplace featuring quality seasonal fare and a wide range of international treats for the discerning palette. Yours.
You must try the hibiscus prossecco:
And the choux la creme…
With an adorable patio in essence of Paris or Medi-Nice, large swooping fans and a view of the patisserie case this is a must lucheon spot or perhaps a ambient dinner(if not dining at Little Door)…
The Little Door presents specially created dinner specials, sandwiches, salads, freshly baked organic breads, pastries, French Brunch and a variety of famous house-made jams and preserves with a wonderful selection of wines from around the world.
I'm pretty much sold on the prossecco and macarons.
The Little Door Restaurant || Little Next Door Brasserie
8164 W 3rd Street Los Angeles, CA 90048
(323) 951-1210
Neighborhood Gastropub:
The Orlando Hotel's much-anticipated new addition, the Churchill, is officially open! After a few unsuccessful former restaurants I have a feeling about this one. From the guys behind the Hudson, the new locale owns lots of woodsy dining room space, a photo booth, a street-level patio with a fireplace, and a sleek upstairs area where DJs will spin after-hours. Additionally finding decor such as old boxing gloves and books, black-and-white sports photographs and an antique silver cash register. How Winston-esque.
Dining? You must have the potato gnocchi with braised rabbit, their wood-oven pizzas… Breakfast perhaps? start your morning with a housemade chorizo breakfast burrito and Intelligentsia coffee… and possibly end it with an olive oil ice cream cone.
photos. booth.
Twinkling lights off West 3rd street@ Churchill
Finally a outdoor venue off 3rd just north of the lovely Blackburn neighborhood.
The Churchill
8384 W 3rd St
Los Angeles, CA 90048
323-650-8384
official website
Visited Rick Caruso's lovely tucked away lounge in The Grove this past weekend(also to scope the progress of the future UMAMI across the way) and officially fell in pallete seducing love. First I started off with the Blue Bird martini, Grey Goose vodka dirty martini with blue cheese stuffed olives. My go to martini, if you aren't a dirty kind of cocktail lover the libation menu pleases all.
I had the Albacore tuna tartar served with a radish salad, toasted sesame, citrus ginger dressing . Fresh and citrusy, the radish salad was a perfect accessory.
Whisper Lounge Lamb Bolognese. Penne pasta, braised lamb shank, spicy lamb sausage, smoked tomatoes, parmesan-reggiano…it's the smokey flavor that is to die for. To freakin' die for. No wonder why it's the most popular thing on the menu…
We also had the Pan Roasted King Salmon, with yam puree, lentils and chard I believe- incredibly light, delicious and veggie accomadations were flavor packed wonderful! The server recommened it cooked medium, I was hesistant but if the chef recommended it that way- I wasn't one to insult. It comes out a little pink, however I believe it's sushi grade. Pair with the awesome Sav Blanc on the wine menu, you will not be disappointed.
189 The Grove Dr # F90b Los Angeles, CA 90036
(323) 931-0202
Half Price Bottles of Wine on Tuesdays
Enjoy half price bottles of wine at The Whisper Restaurant and Lounge on Tuesdays!
Also enjoy specialty cocktails, rustic wines, special bar menu and no cover charge.
Not valid on wines served by the glass, only applies to bottle sales.
---
Whisper Happy Hour
Daily from 4pm-6pm
$6 wines by the glass, Beer specials, and $5 food specials.
I heart The Fat Dog gastropub.
First, they have my beloved Allagash White on draft. Great burgers, the caesar salad with poached egg(phenomenal!) and Swedish inspired food: Swedish meatballs + and cocktails. The owner of Scandinavian decent, brings this dog friendly & inspired gastropub right smack into the Fairfax District.
Caesar Salad, poached egg.
Meatballs.
Chili mac n' Cheese
THE Fat Dog.
Adjacent to neighbors Lindy & Grundy and Commissary, The Fat Dog aslo offers a fantastic brunch menu.
Eat. Lunch. Little Doms.
The go to Los Feliz experience for celebrity to commoners, Little Dom's delivers delicious everytime. After you stop by Los Feliz Towers come by for a fantastic lunch experience. Known for their pastas, whitefish and rice balls- take a chance on the burger(I recommend a proper Italian beer to accompany it-Peroni perhaps?). Handsome & booth-lined the retro trattoria starters are $10 to $15, a burger's $15, and sides are around $8, not bad for a damn good burger.
2128 Hillhurst Ave
323.661.0055
 Sweet Treats
 Go for Walk down the West Third Street District between Fairfax and La Cienega and discover boutiques, eateries and eateries that provide out of this world pastries, pies and the battle of the best cupcake.
Pie. Mini Ones.
Simplethings Sandwich + Pie Shop a newer must do spot on 3rd. Holiday specialities include Pumpkin, Pecan, and Sweet Potato, I stilll love the Banana Cream… They just made November's Food & Wine Magazine for their Salted Caramel Pie, congrats Simplethings! Did I mention they have fantastic sandwiches?
Simplethings Sandwich + Pie Shop
8310 West 3rd Street, Los Angeles, CA 90048
323-592-3390
Have your cupcake and eat it too.
As partners in this culinary adventure, Joan and her family travel the world. From huge trade fairs to tiny trattorias and charcuteries, they are always looking for great new products and exciting ideas; inspiring each other to great heights of culinary creativity. From marketplace salads to cupcakes, walking in to this shop is an experience. This seasons cupcake: Spiced Maple
( Do not let this plainly dressed gal fool you, it's what's inside that counts.)
My favorite End of Summer Cake:
Joan's Strawberry Buttermilk, by far my favorite on the block! Light, airy and delicate.
Below the Rasberry Vanilla, Chocolate Peanut Butter & Chocolate with Cream Filling
Joan's on Third
8350 West Third Street
Los Angeles, CA 90048
Ahh the mecca of Brunch Row. Famous for omelets, kick*ss sandwiches, some of the best salads in town and their red velvet cupcakes.
Whenever I want a fresh lucheon experience I migrate here and hawk hover the pastry display.
Craving something smooth and creamy? Try the famous Banana Pudding with Vanilla Wafers:
Walk to Lunch. Lemonade.
Molto bene! Cafeteria style luxury. So fresh, delish, excellently portioned(you have options!) – marketplace lunching.
After my a lovely introduction by a lovely friend(@themorgandixon) I completely fell in taste for this incredible eatery. The ricotta & broccoli with champagne vinagerette is alsolutely diabolique. Something so simple in ingredients yet so complex, so unigue, so divine… to the braising of the broccoli florets.The sweet potato and pistachio salad is hearty, an autumn staple*heaven*. The stews…they have these cast iron style stews that are perfect for our certain season as well. I love the Morrocan Stew: exotic flavors, savory, with chicken, potato, curry and perhaps dates? I believe. When you meet this incredible lucheon spot you will CRAVE it. Impress someone and have them meet you here…
Of course the Lemonade. My favorite? Watermelon Rosemary. Not too sweet, delicate and perfect!
9001 Beverly Blvd
West Hollywood, CA 90048
Neighborhood: West Hollywood
(310) 247-2500
Contemporary Macrobiotic Cuisine
M Café introduces Contemporary Macrobiotic Cuisine — featuring balanced, nutritious, creative cooking which can be enjoyed daily by everyone, not just vegetarians or people with dietary restrictions. Building on the foundation of Michio Kushi, their chefs prepare each item fresh daily, using only the finest ingredients without any refined sugars, eggs, dairy, red meat or poultry.
BBQ Seitan Sandwich(heaven)
including macro sushi and desserts!
This could be your home, your cafe, your life.
7119 Melrose Avenue
Los Angeles, CA 90046-7617
(323) 525-0588
I had just read somewhere that soup is the "fall fashion of food". As we gentley begin breaking out some sweaters and scarfs(I have been loving these grey mornings)… my appetite is craving the warmth and hearty tastes of the season~ super lucky for us, we live amongst the most awesome eateries that host the most delicious liquid meals(and delicious things to dip in them), check out: Zagat made a list of LA's best soups. My featured delight is from Doughboys on West 3rd Street. I suggest on a rainy day, fight the crowds and treat yourself to this one. If you are daring or ambitious~ you HAVE to have their red velvet mini cake for dessert. I vote this red velvet the best in town. Your palette will thank you.
After School Special -Grilled Cheese Sandwich & sweet Creamy Tomato Soup
THE Red Velvet.
Doughboys 8136 W. 3rd St., Los Angeles, CA 90048 323-852-1020
Oh, did I mention they deliver?
Now get your glow on with BH Juice(more like Beverly Blvd)…
This local non pasterized juicery is the neighborhood secrect of cleansing, purifying, detoxifying and then some. Perhaps when you go in the lovely yet grumpy owner(probably because he hasn't had proccessed carbs since in 1975-do not quote me…) will just ask you "what do you want" however the purity of his raw veggies and fruits bought from the local organic farmer's market are proof to the power of his raw juices. I LOVE the banana manna w/almond + strawberry, coconut and apple juice for a delish meal replacement, the Big Ten for liver cleasing and the hot tomato concoction that I turn to when winter colds do an invasion. His passion for raw juices come from the comparison to other methods of juice extraction, pressed juice has a higher nutritional content: more vitamins, more minerals, and more amino acids. Additionally, pressed juice is exposed to a minimal amount of oxidation, and therefore maintains a shelf life of a few days instead of minutes. Beverly Hills Juice presses and bottles batches of juice every morning, making pressed juice available for customers to pickup each day.
Visit + Drink + Thrive : http://www.beverlyhillsjuice.com/menu.html
The Banana Mana Shake!
Wirsthaus & Rosewood Tavern
Now I don't have to drive all the way past downtown to get my German sausage & beer fix at
Wurstküche!
Wirtshaus
hopes to carve a niche for itself with a menu of updated German classics and a menu 30 German beers. Though the menu feature four kinds of
wurst
including
weisswurst
,
bratwurst
and a vegetarian sausage, it also includes potato pancakes with mascarpone applesauce, schnitzel, cheese spaetzle, pretzel rolls, three kinds of house-made mustard and "spaghettieis."What are spaghettieis (pronounced "spa-getty-ice")? A popular German dessert made with vanilla ice cream that's shaped like spaghetti noodles and topped with cream, strawberry mousse, fresh strawberries, white chocolate or coconut shavings (to resemble Parmesan cheese) and chocolate flakes (black pepper).  
  Wirsthaus serves Californian and German wines, along with housemade pretzels, schnitzel, and knödel over lunch and dinner. Head over for a delicious and authentic German experience.
Wirtshaus: 345 N. La Brea Ave., LA. (323) 931-9291 www.wirtshausla.com
Shooting over from La Brea to Fairfax Ave my new favorite neighborhood spot:
Rosewood Tavern
Scotch. Draft Beer. Chops. Rustic. Classy. Sold.
Grab your friends, your lady and head in to the only tavern in the 'hood, start off with the indian spiced chicken wings, order a scotch or whiskey from their premium selection and continue your journey from there.